Fundamental Right Of Movement (FROM): the public right of way for all sentient beings; to move freely. To be allowed to travel without incumberences, or barriers. To not be in fear of being killed, assaulted, trapped, imprisoned, persecuted or prosecuted for such movement.
No Entry
November. 9am. Malta. The morning air is chilly with winds blowing from across the Mediterranean Sea. I walk along a country lane surrounded by rubble walls down into a beautiful cultivated and tree filled valley. As I ascend the path of way a sign reads 'No Entry – Private Property'.
I have seen many such signs in previous day's walks. Others are spray painted on stone walls in red reading 'RTO' (Italian short for 'riservato', or  'reserved'). I have seen many such signs as I have walked around the coast of Malta. I nervously continue past the makeshift boom gate up the hill as having to backtrack would require a very long detour to get to the coastline.
As I ascend I pass a truck. Inside are two people who no doubt may have put up the boom gate and sign. I keep walking and am not stopped. I walk quickly and as I turn a corner I see a farmhouse ahead and unchained barking dogs. I can hear the truck driving up the hill. I make the decision to skirt across a narrow pathway that would lead to a larger road thus avoiding the dogs and the approaching truck.
A few minutes later, with the blue Mediterranean Sea only a few hundred metres below I reach a gate reading 'NO ENTRY – PRIVATE PROPERTY'. This looks like more of a secure gate, yet there is a narrow pathway that skirts around the gate along a cliff edge.
As I stand contemplating what to do, seemingly stopped from rambling to the coastline I see an old Maltese woman in a field close by. I ask her what I should do and she advises me to walk around the gate with the sign and back onto the road. I explain that if there are dogs behind the gate it would be quite dangerous. She is concerned that my plan B of climbing down the cliff face to the left would be too dangerous. I decide to ignore her advice as I was quite rattled only a few minutes earlier with the barking unchained dogs.
So I find a path along the cliff to the left, and look for a spot that I could descend carefully. Surveying the cliff I find a possible route down that would connect me back to the road shown on my iPhone. Gingerly I climb down the cliff past wild flowers and wind sculpted trees clinging to the precipice, all the while mindful that if I should fall I would be on my own.
Walking On The Edge
Back on the road close to the edge of the sea cliffs, that now was rocky instead of sealed, I didn't relax for long. There were cars parked on the road verge, and in little stone and corrugated huts with viewing slits I can see the silhouettes of people inside. I walk past these structures and careful to not look in their direction knowing that any moment I may be abused by these bird shooters and trappers.
Right Of Way
The walk continues like this, as I pass many more structures with hunters and trappers within.
With each step my enjoyment of the incredible seascapes is tempered by the feeling of being closely watched and scrutinised and the possibility of a verbal or physical confrontation at any moment.
As I walked my way around the coastline of Malta over the coming weeks I was emotionally exhausted from the experience, knowing that I had public right of way and not always feeling comfortable that I could freely exercise this basic right.
Right Of Passage
This feeling of emotional exhaustion was familiar. I had experienced only weeks earlier negotiating checkpoints in Palestine manned by soldiers carrying machine guns.
Of having to carefully plan what should be short journeys. Knowing that to travel through Palestine meant that, for instance, one couldn't take the short 45 minute drive from Bethlehem to East Jerusalem and onto Ramallah. Instead one had to take the long detour to the east of Jerusalem if you are Palestinian and don't have the right permit. That could take up to 3 hours depending on traffic. That feeling of not being able to have freedom of movement was all too familiar.
Gazamped
Also, only weeks ago I was on a hill peering over a high border wall into Gaza from an Israeli settlement, into an area under air, land and sea siege. Gaza is like Malta, being one of the most densely populated places on earth. Unlike Malta, however, entry of food, building and medical supplies are carefully controlled and restricted, as is movement in and out of the territory. I was peering into the largest open air prison in the world.
Here in Malta I have a relative who is married to a Palestinian. He told me how he was only given a single day entry into Gaza to see his mother dying of cancer. I have heard stories of others who were not issued permits to leave Gaza to receive life-saving medical treatments in Israel. Freedom of movement is a fundamental human right that needs to be upheld no matter where in the world, whether human or any other species.
Sentrification
The coast of Malta is dotted with historic stone towers and stone fortifications. They hark back to a time when these strategic group of islands were coveted by many cultures. In fact many believed that who controlled the destiny of these islands, situated at the crossroads of the Mediterranean, between East and West and North and South, controlled the Mediterranean. Sentries kept watch for the surprise approach of enemy invaders to give an early warning to the islanders.
Strategic Refuelling Point
The Maltese island's strategic importance in the middle of the Mediterranean, has seen its fair succession of invaders. In ww11 Malta sustained some of the heaviest aerial bombing of the war. It would later be known as the Siege of Malta, and between 1941-42 the Luftwaffe (German Air Force) and the Regia Aeronautica (Italian Air Force) carried out 3,000 bombing raids to bomb or starve Malta into submission.  It was a strategic point in the Mediterranean that if controlled would have provided a fuelling point to the North African campaign.
For thousands of years these group of islands have similarly provided a  point for birds to break long voyage across Mediterranean from Sicily to North Africa, to fuel up before continuing their long migrations.
The Killing Fields
These days of keeping watch have long passed one may think. Malta enjoys a booming economy, peace and stability. Yet, dotted around the island are small stone and corrugated iron huts in fields and along the tops of cliffs. Inside there are Maltese keeping watch with shotguns at the ready as the apparent invaders approach land.
Hidden in the shadows peering through slits in the stone huts and bunkers they await not enemy invaders but defenceless long distance travelers who come to find safe haven before continuing on their epic journeys, some of which may be thousands of kilometres.
These are the migrating birds who come each year, though their numbers are dwindling. These long distance travelers come for sanctuary. A peaceful resting point on their yearly migration.
Every spring and autumn, Malta becomes a vital stepping stone for birds using this migratory route to move between European breeding and African wintering grounds and the islands act as a place to rest and regain fat supplies before continuing on these long and taxing journeys. Due to its strategic location on this key migration route, Malta has a long and impressive species list, totaling 389 species that have been recorded. Of these, over 170 occur with regularity on migration, in many cases in significant numbers. Scientific ringing studies carried out by BirdLife Malta since the 1960s have shown that birds from at least 48 countries use Malta during migration. [1]
Enter At Own Risk
Instead of safe haven they must run the gauntlet of bird shooters and trappers. It is a war zone on many levels, one that is firmly hedged against nature and those who come to enjoy this yearly spectacle.
Malta has one of the world's highest number of hunters per capita, who shoot and kill any bird that flies. The skies over Malta and the surrounding sea are devoid of birds. Each year, 3 million birds are shot or trapped on Malta while migrating between Africa and Europe in the spring and autumn, leading to a gradual decline of these beloved European birds that traditionally seek refuge in Malta. [2]
Illegal Bird Trapping
Throughout the islands the land is being destroyed for the capture of birds using clap nets. Areas of land are cleared of valuable habitat – of plants and rocks – and made flat. Sometimes, the areas are made level by dumping tonnes of soil. To set up clap nets an even surface is required.  [3]
David Attard, one of the rangers at Ghadira Nature Reserve showed me a couple of days ago the extent of the problem as we looked at Google maps. The extent of damage was even more than he realised as new rectangular patches of bare land had appeared since his last observation.
The Maltese Islands cover an area that is only just over 316 square kilometres, and with a population of approximately 450,000 it is one of the smallest and most densely populated countries in the world. Habitat, for both humans and nature is at a premium and to have nature destroyed without any repercussions for those responsible is criminal.
Greenfinches and other small birds are brought in illegally from Sicily and placed in small cages on pedestals to attract unsuspecting wild birds who come to feed in Malta, a stepping stone on their incredible migration to Africa. Illegal bird callers echo throughout the countryside giving a false sense of security to birds. Walking from Rabat to the steep cliffs of Il-Bahrija I could here the loud recording of golden plovers.
These so-called animal lovers capture these birds to place in sometimes tiny cages, imprisoning them so they no longer are able to roam freely and continue their journey to the warm temperatures and feeding grounds of Africa.
Encaged
The Maltese have a fascination with birds in cages. Birds are meant to be free to fly. Seeing birds often in small cages unable to fly freely, enslaved and denied freedom of movement I believe amounts to cruelty.
There are wealthy Maltese citizens who own whole menageries of birds and animals. I was told by a warden at Birdlife Malta that some even contain big cats like tigers and lions. Yet the authorities are powerless to enforce animal protection laws as they don't have the facilities to house confiscated or rescued animals.
It was sad to visit the Natural History Museum in Mdina, one of the highest points in Malta. A fortified city, known as the Silent City, was built within its stone ramparts. It is quite eerie to walk around the old rooms of this beautiful building that the museum is housed in, filled with stuffed birds, many of which were once frequent visitors, in total silence. No bird calls and live movement, just the all pervading deathly silence.
Illegal Bird Hunting
Not only are birds caught in clap nets and enslaved, others are shot for 'sport'. I remember as a child visiting relatives who had great big glass cases of mounted birds. Everything from water birds to birds of prey.
Illegal hunting continues throughout the year and it is primarily due to this intense persecution that Malta has the dubious distinction of being the only country in Europe and the Mediterranean with no regularly breeding birds of prey. [4]
Even back then as a child I couldn't understand how a dead lifeless animal could give pleasure compared to a living breathing animal that could move around freely. There is a profound connection that happens I believe when we are able to be in the presence of other sentient beings. A deep feeling of gratitude radiates from within as we understand that we are all part of the bigger circle of life on this planet.
Sitting Ducks
Walking along the cliffs a few days ago from Ghadira Nature Reserve to Slugs Bay I spotted a flock of ducks down by the water's edge. As I stopped to look closer I began to hear duck calls. On closer observation I could see that they were wooden ducks bobbing on the waves and the sounds were emanating from a speaker.
I didn't see the hunters but yesterday walking along the cliffs just north of Mistra Bay I walked past two hunters with their guns, khakis and a bag no doubt containing dead birds.
Walking from Imgiebah Bay yesterday up a quiet country lane with scenic views over rubble stone lined terraced fields and carob trees there was a hunter with his two dogs, gun at the ready. Birds have little chance of finding safe haven in Malta and even less of continuing their epic migration to Africa.
Wherever I walk I hear the unsettling crack of a shotgun, even in Il-Majjistral Nature and History Park. This nature reserve is simply a glorified shooting reserve.
Over the past one and a half weeks I have walked around the coast of Malta past stone and corrugated huts containing shooters and trappers expecting a confrontation.
Safe Haven
Birds have been using the Maltese islands as stepping stones on their migration even before humans inhabited this archipelago in the middle of the Mediterranean. The islands provided a safe haven before the settlers, the Maltese, felt it their fundamental right to be able to shoot and imprison these travelers who come for safe haven.
Hospitallers
Malta has always been a place that welcomed weary travelers. Speak to any visitors to the islands and they will rave about the islander's hospitality.
Saint Paul was shipwrecked in a violent storm here on his way to Rome being tried as a political rebel. He and all aboard swam safely to land. The welcome given to the survivors is described in the Acts of the Apostles (XXVIII) by St. Luke:
"And later we learned that the island was called Malta.
And the people who lived there showed us great kindness,
and they made a fire and called us all to warm ourselves… "
The Knights Hospitaller who came to Malta from Rhodes originally functioned to help take care of the sick, poor and injured pilgrims coming to the Holy Land so continuing the custom of hospitality of the Maltese.
Melite or Maleth
The origins of the word Malta has two different possibilities. The ancient Greeks called the island 'melite' which meant honey–sweet possibly for its unique production of honey. An endemic species of bee lives on the island. On my walks around the island I have stumbled upon ancient apiaries hewn into the rock. The honey-coloured rock that is Malta may also have given rise to the name.
Malta is a rocky island and a second possibility is of Phoenician origins. The Phoenician word 'maleth' meant 'haven' or 'port'. The island's many rocky inlets including the majestic Grand Harbour provided safe haven for ships.
Throughout the Maltese islands many of the place names refer to this origin. 'Marsa' also means 'port'. Various place names in the Maltese Islands have Marsa as part of their name generally followed by a direction of the wind rose indicating the location of the port e.g. Marsaxlokk, Marsascala, Marsalforn [3]
Maltese Legendary Hospitality
By name and by custom, Malta has always provided a safe haven for weary travelers and hospitality to match. By extending this hospitality to all living beings who travel from afar, to weary birds that fly across from Mediterranean, who rely on this archipelago as a stopover for rest and to stock up for the journey forward we can truly call ourselves Maltese.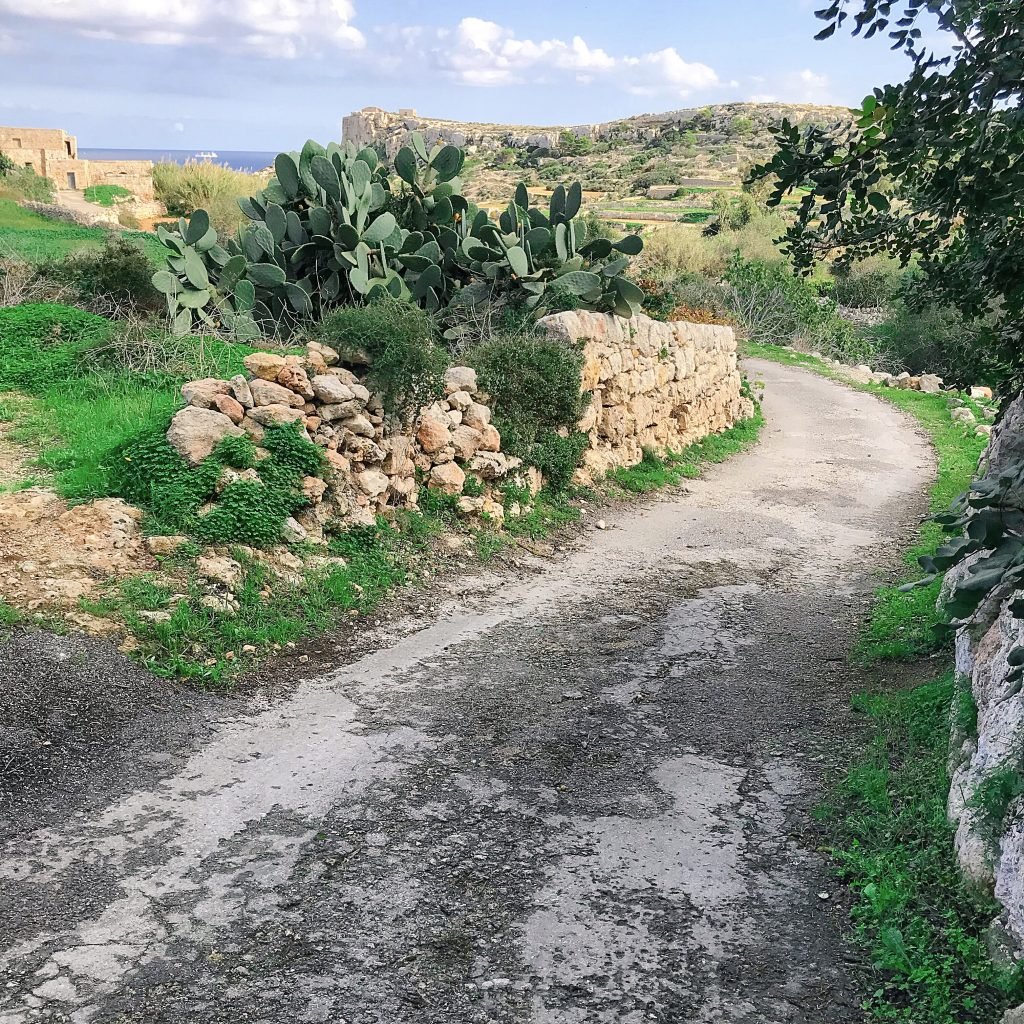 To be able to walk freely through the Maltese countryside, along public roads and rights of way is a fundamental freedom that we must maintain. To be able to access the land without fear or prejudice is our fundamental right. Country road leading down from Imgiebah Bay, Malta.
FROM – Fundamental Right of Movement
I believe it is our fundamental right to provide freedom of movement for all sentient beings. To provide safe haven for those who request it and those who it is there natural right. For all beings to have the right to peace. The United Nations Universal Declaration of Human Rights (UDHR) maps out our fundamental human rights yet if they aren't enforced they are pointless.
Some of these 30 Articles of the Universal Declaration of Human Rights our outlined in a simplified version from www.youthforhumanrights.org below:
1. We Are All Born Free & Equal. We are all born free. We all have our own thoughts and ideas. We should all be treated in the same way.

2. Don't Discriminate. These rights belong to everybody, whatever our differences.

3. The Right to Life. We all have the right to life, and to live in freedom and safety.

4. No Slavery. Nobody has any right to make us a slave. We cannot make anyone our slave.

5. No Torture. Nobody has any right to hurt us or to torture us.

6. You Have Rights No Matter Where You Go. I am a person just like you!

7. We're All Equal Before the Law. The law is the same for everyone. It must treat us all fairly.

8. Your Human Rights Are Protected by Law. We can all ask for the law to help us when we are not treated fairly.

9. No Unfair Detainment. Nobody has the right to put us in prison without good reason and keep us there, or to send us away from our country.

10. The Right to Trial. If we are put on trial this should be in public. The people who try us should not let anyone tell them what to do.

11. We're Always Innocent Till Proven Guilty. Nobody should be blamed for doing something until it is proven. When people say we did a bad thing we have the right to show it is not true.

12. The Right to Privacy. Nobody should try to harm our good name. Nobody has the right to come into our home, open our letters, or bother us or our family without a good reason.

13. Freedom to Move. We all have the right to go where we want in our own country and to travel as we wish.

14. The Right to Seek a Safe Place to Live. If we are frightened of being badly treated in our own country, we all have the right to run away to another country to be safe.

15. Right to a Nationality. We all have the right to belong to a country.

16. Marriage and Family. Every grown-up has the right to marry and have a family if they want to. Men and women have the same rights when they are married, and when they are separated.

17. The Right to Your Own Things. Everyone has the right to own things or share them. Nobody should take our things from us without a good reason.

18. Freedom of Thought. We all have the right to believe in what we want to believe, to have a religion, or to change it if we want.

19. Freedom of Expression. We all have the right to make up our own minds, to think what we like, to say what we think, and to share our ideas with other people.

20. The Right to Public Assembly. We all have the right to meet our friends and to work together in peace to defend our rights. Nobody can make us join a group if we don't want to.

21. The Right to Democracy. We all have the right to take part in the government of our country.

22. Social Security. We all have the right to affordable housing, medicine, education, and childcare, enough money to live on and medical help if we are ill or old.

23. Workers' Rights. Every grown-up has the right to do a job, to a fair wage for their work, and to join a trade union.

24. The Right to Play. We all have the right to rest from work and to relax.

25. Food and Shelter for All. We all have the right to a good life. Mothers and children, people who are old, unemployed or disabled, and all people have the right to be cared for.

26. The Right to Education. Education is a right. Primary school should be free. We should learn about the United Nations and how to get on with others. Our parents can choose what we learn.

27. Copyright. Copyright is a special law that protects one's own artistic creations and writings; others cannot make copies without permission. We all have the right to our own way of life and to enjoy the good things that art, science and learning bring.

28. A Fair and Free World. There must be proper order so we can all enjoy rights and freedoms in our own country and all over the world.

29. Responsibility. We have a duty to other people, and we should protect their rights and freedoms.

30. No One Can Take Away Your Human Rights.
[5]
Rights of Nature
If we take these human rights and include all of nature which I believe we should, we begin to look and treat our natural world differently.
All of a sudden it is a right for all animals to be afforded the rights of humans to be allowed freedom of movement, a safe place to live, a place for food and shelter, ensuring their 'habitat' is preserved. No longer are they killed, tortured or enslaved, that they have a right to have families, to live in privacy, to be born free and to have a right to life.
Changing Paradigms
We require a paradigm shift in our fundamental way of how we think about nature – animals, plants, and the environment. It is only when we begin to make these revolutionary changes in our thinking that we can begin to see real change in our world.
There was a time when we lived in rhythm with nature. When we understood our place as part of the natural world not dominant over it. A time when nature was revered and respected, that we understood the delicate balance that has to be maintained for the survival of humans, animals and the entire planet. We need to begin to go back to these times to reclaim our place in the scheme of nature.
It is when we begin to have these tectonic shifts in our thinking can we see real progress take shape. This may also require a massive shift in our political systems. Systems which rely on politicians making promises that destroy the natural votes in order to garner votes. We need long term thinkers who include the environment in every decision, we need to adopt the Iroquois' Seven Generation Stewardship concept that we live, make decisions and work for the benefit of the seventh generation in the future .
Animal Sentience
This battle for the rights of nature is ongoing not only in Malta but in the world at large. British MPs have recently voted to reject the inclusion of animal sentience, that animals feel pain and emotion into the EU Withdrawal Bill.
This undermines the years of good work of animal rights activists and is a step backward. Animal sentience was incorporated into EU law in 2009 via the Lisbon Treaty, following years of campaigning by animal rights activists.
Propa-gander
On one of my walks along the Sliema waterfront I passed onto Manoel Island in Grand Harbour and came across Duck Village.The obscured sign in this ramshackled collection of floatsam and jetsam housing domestic ducks, geese, rabbits and guinea pigs reads something along the lines of  "Pilot Project With Initiative of the Association for Hunting and Conservation – Malta".
I spoke briefly to a man who had arrived to feed the animals and he said well meaningly and heart-felt that they don't just kill and trap birds but they breed and release them too. None of these birds looked like they could fly as the area wasn't fully screened off. I truly believed that most of the hunters don't see that they are doing anything wrong, that those who look to protect the rights of nature are extremists and a bit insane…
Bird Hunters Lobby
The bird shooters and trappers form a strong lobby over about 10,000 votes and in a country of such a small population, this vote may be crucial to political parties. Yet, I think the political system may need to change as it ensures any real protection to nature and the legal right of passage are never enforced in order to appease this group.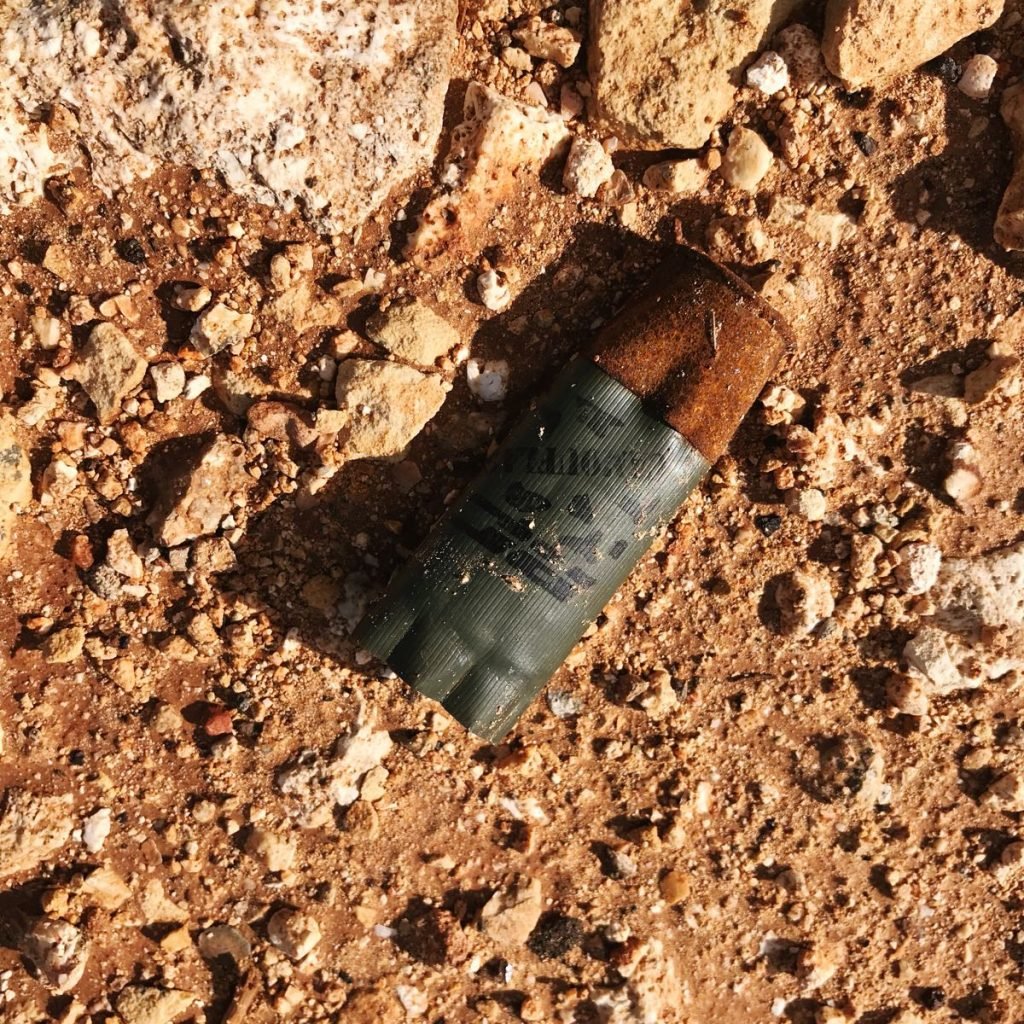 Spent shotgun cartridges litter the ground wherever one walks along the cliffs and fields in Malta. Evidence of the ongoing war on birds that is raging in the archipelago.
War Of Words
There is a war being waged in the Maltese Islands. The stone fortifications and watchtowers however remain silent. The war isn't being waged against a common invading enemy. Instead, the pilgrims come in peace having traveled great distances to find safe haven, to rest, recover, find food and shelter and continue on their journeys. They meet an onslaught of bullets both from land and sea. From behind stone towers and huts, they are slaughtered, captured and imprisoned, around three million per year will never make safe passage.
There is another war that is being waged. It is a war of words. It is a war to win hearts and minds. It is being waged on both sides. One the one side is the Federation for Hunting and Conservation – Malta and the bird shooters and trappers they represent. On the other side are organisations like Birdlife Malta, National Trust of Malta, and Nature Trust Malta not to mention the growing army of nature lovers.
Environmental Restoration, Educational Awareness, Legal Avenues
This war won't be won through violence but through educational awareness, environmental restoration and legal means. I was fortunate on my walks around the island of Malta to visit Simar and Ghadira Nature Reserves and see the amazing work that has been done by dedicated people  under such difficult circumstances.
Both Simar and Ghadira Nature Reserves are run by Birdlife Malta and are rare brackish marshland providing safe haven for migrating birds. From the hides one can observe birds feeding without disturbing them. Here are places where these feathered visitors are given safe haven. These habitats were badly degraded and were restored to provide sanctuary for birds, and a place for public recreation and education.
Faith Hope and Charity
While there I got to speak with some of the rangers and the incredible work they are doing. They remind me of the three biplanes, Faith, Hope and Charity, that fought valiantly in WWII against advanced enemy Italian and German fighter planes. These pilots who flew them were brave and tenacious, their old inferior technology biplanes were often patched up with newspaper from damage from enemy fire and were up in the air again.
Raymond Vella spoke to me about the reforestation efforts that he has been involved in creating a buffer zone of forest within the Ghadira Nature Reserve boundaries. He had to date planted 11,000 trees in a forest known as Foresta 2000. He told me of the ongoing struggle in the beginning of seeing 3,000 trees destroyed overnight by others no doubt opposed to the conservation ideals that he stands for. Today over 24,000 native young trees and shrubs grow here, helping to reforest Malta, an island that once was much greener.
I sat with David Attard, another ranger and watched as he ringed a robin and recorded its details before letting it go. He spoke of birds that he had ringed that were caught by other nature organisations in the Czech Republic. Through a close network of conservation organisations, data is recorded and shared openly to be able to understand the movements and health of natural bird populations and their migration patterns.
Educational Awareness and Advocacy
I got to speak a few days earlier with Nimrod Mifsud from Birdlife Malta at the Simar Nature Reserve. His passion for Malta's natural history was infectious and no doubt this energy and respect for nature would be passed onto both adults and children alike that visit the centre.
Birds Have No Words
Ray, David and Nimrod are the heroes on the ground – making a difference – providing a voice through education and activism, through providing sanctuaries where these long distance travelers may find sanctuary.
It takes humans to become the voices for the voiceless. It also takes humans to stand up to demand that environmental laws be enforced. In a country where political will is weak as it is influenced by a strong and powerful hunters lobby, international and EU laws need to be enforced more diligently not just written.
Earth Law
With growing awareness of the natural limits and boundaries of the whole Earth community, Earth Law is an emerging body of law that puts people and the planet first. It puts laws in place that protect future generations.
Earth Law includes Ecocide Law that aims to prosecute those that destroy the environment. Earth Law also encompasses indigenous rights, Earth rights, rights of nature, rights of future generations and rights of the displaced.
We are trustees of the planet and have a right to ensure that all living beings have the right to life and that our children may be able to live in a world that isn't depleted by our short term thinking and environmental destruction. [6]
International Bill of Earth Rights
On 10th December 1948 the Universal Declaration of Human Rights was adopted by the United Nations. The Declaration of the 30 Articles, were not legally binding but provided a framework for treaties and became the first step in the formulation of the International Bill of Human Rights.
I believe it is timely that in order to create a paradigm shift where we truly become trustees for the environment and halt many of the destructive environmental practices that a legally binding International Bill of Earth Rights be formulated.
Next year will mark 70 years since the adoption of the Universal Declaration of Human Rights and an opportune time in our Earth's history to be able to adopt a new Declaration or Bill that encompasses the rights of all sentient beings and natural environments and systems.
Ecotourism
Currently tourism supports forty percent of the Maltese economy. Visitors come to enjoy Malta's incredible history and natural beauty. It has become heavily urbanised as I have witnessed having not visited the islands for almost a quarter of a century. Even though I have noticed the incredible amount of building and expansion of towns and villages, eating into the precious rural landscape, and traffic that is choking the lifeblood of traditional life, there are still beautiful pockets of nature and a breathtaking coastline where development has been kept at bay.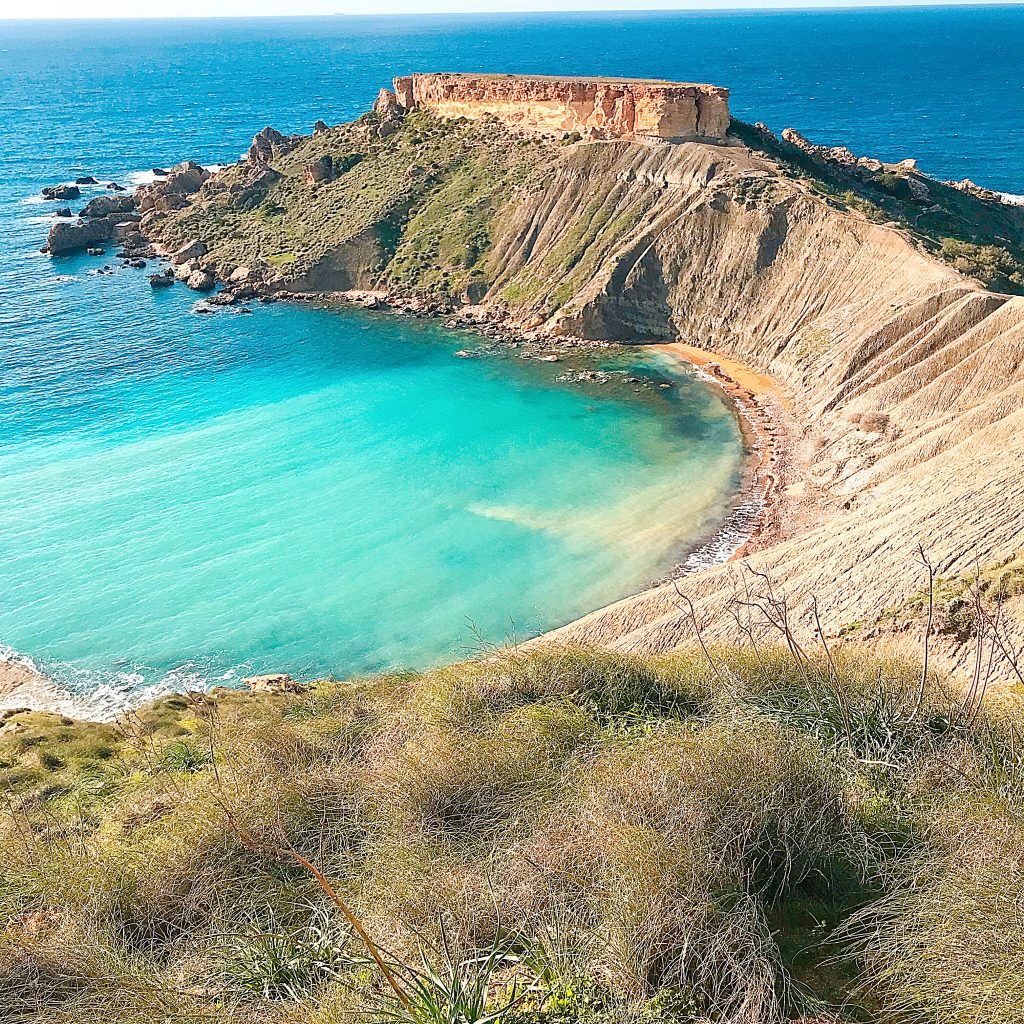 Malta Coast Trail
I see a great benefit to the economy from ecotourism if the Malta Tourist Authority and the government were to invest more heavily into ecotourism. Specifically, creating the Malta Coast Trail, a trail that was well signposted and lead visitors right around the stunning coastline of Malta and Gozo.
Currently, there are many information boards highlighting many EU funded historic and national sites and restricted trails around the islands. They have done a commendable job. Yet to my knowledge there isn't a comprehensive trail that leads visitors right around the coastline.
To do this would require the government to do an audit of the existing public right of ways taking into account the innumerable illegal signs preventing entry by the public. An official path could be formulated that would take visitors off the main roads and into the natural areas as much as possible. This may require that illegal signs be removed and the trail maintained and illegal signs continually monitored and removed, and those who insist on erecting them to provide a screen for illegal hunting activities be brought to justice.
This may also garner more awareness to the incredible natural scenic beauty of the Maltese Islands and also the environmental challenges facing them. Through appreciation and awareness of the beauty and fragility of the natural environment do I see change happening.
Where To FROM Here?
It is time for a paradigm shift in our thinking. My experiences of walking around Malta has brought up many concerns that need to be dealt with if Malta is to retain its natural beauty and remain a safe haven for our avian international travellers. As short term gain till now has taken precedence over environmental stewardship it is time for this paradigm shift. As fields continue to be destroyed in the name of development, and habitat destroyed for bird trapping, this shift is desperately needed now.
The right of movement without being harassed, killed, or enslaved is a fundamental right for all sentient beings and new laws are needed and governments need the political will to enforce them.We need a fundamental shift in our thinking to create a world that is sustainable.
Public roads and rights of way through the countryside needs to be maintained and strengthened.
Birds should be able to migrate without the fear of being shot or trapped. We have an obligation as a people of hospitality, to provide a refuge, a safe haven for nature's creatures.
Let us live up to the reputation of Malta as the safe haven, the port of call for our long distance flying travelers, a place were future generations may marvel at their beauty and magnificence, and listen to their sweet calls rather than mourning their extinction in a silent museum display.
Notes:
After writing this article I did some more research and have discovered that a Universal Declaration has been written and was presented on April 22nd 2010 at the World People Conference on Climate Change and the Rights of Mother Earth, Cochabamba, Bolivia.
The Universal Declaration of the Rights of Mother Earth
Click here to download a pdf of the Universal Declaration of the Rights of Mother Earth
Click here to sign the Petition for the UN to adopt the Universal Declaration of the Rights of Mother Earth
Koala Experience
Last week after arriving back from the big journey I accompanied Heidi to release a koala close to where it had been rescued a week earlier after having an encounter with a dog. The area that the koala lives in is small acreage plots in the middle of suburbia. Koalas here have a hard time finding suitable feeding trees and running the gauntlet of dogs, fences and roads to reach these trees in their territories.Koalas must be released within a 5 kilometre distance from where they were captured from.
I experienced the dilemma first hand when we took an hour and a half driving around the neighbourhood looking for suitable 'habitat'. We spoke with neighbours to understand the number and type of dogs in a given street. We found the perfect street with neighbours who were sympathetic to koalas, and contained few dogs. Looking around I lamented at the thought of being a koala and having to negotiate fences and having to contend with dogs. Maybe it is time we start to look at how we live and how we see 'security' to do away with fences and find other alternatives that don't restrict the movement of our precious wildlife?
Bibliography:
 http://birdlifemalta.org/information/hunting/
http://marathonandmore.tripod.com/ornimalta-tourism.html
http://www.independent.com.mt/articles/2017-03-20/local-news/CABS-accuses-government-de-facto-tolerance-of-illegal-bird-trapping-6736171839
http://birdlifemalta.org/information/hunting/
http://www.youthforhumanrights.org/what-are-human-rights/universal-declaration-of-human-rights/articles-1-15.html
http://eradicatingecocide.com/the-law/earth-law/
This article was written on 22nd November 2017, 4 days before leaving Malta after a 20 day visit to my parent's ancestral place of birth